Strength Training for Cyclists & Triathletes Programs
Looking for a strength training program that will give you the best return on you time & energy invested, helping you to feel energized, stronger on the bike, breathe better, and recover faster?
We've got a program for you!
A word of thanks!
Our tour finished today. 6 days of riding including several 100+km days, with no back pain or residual soreness. It has been several years since being able to complete a ride like this without being practically debilitated by the end.
I simply thank you for your guidance & coaching program which I believe have been instrumental in helping me start to get back on track, after simply riding more (even with a structured cycling only program) just failed.
"Everything was perfect on the 4th day, we got 4th in the Masters Pairs group. The Exercises you gave (over the last 3 months of programming for me) were awesome! They really helped. I still can't believe how well those breathing exercises worked... When I read it in your book I thought it will have little to no effect, but the complete opposite happened.
Thanks!
Hey. I wanted to write you.
I feel very good on my bike, I think for the first time I really feel that I can control my bike & that the (strength) workouts help me, and don't make me tired...It is a little light in this (tough) season!
Hi, sorry I didn't answer, I haven't seen messages, we've been racing a lot.
Things are going great, races are very good, and the workouts feel relaxing and lowering the tension.
By the way, I podiumed in a juniors race here (in Belgium)!
Our Strength Training for Cycling & Triathlon Programs have helped people from all backgrounds, ages, and abilities to get far more out of their training time, and to see improvements in their power & performances they thought they would never achieve:
"Not only have I gotten faster, but with the strength training program, my riding has improved while riding LESS hours than before!"
"I didn't believe that at my age I could increase my 5 second to 2 minute power….but after just 3 months, it has happened!"
"I don't know what to tell you….No more neck pain, and my fingers on my left hand no longer go numb. Oh, and I'm now almost at the front of my group rides at the end!"
"Your Strength Training programs are Deceptively Effective. I was amazed at how I felt after just 2 weeks"
Not sure which plan is right for you? Contact us with your questions and we'll help ensure you get the plan that suits your needs best!
Ready-for-You
Strength Training Programs
Stronger After 50 Strength Training System
Training, and definitely strength training, over the age of 50 DOES need to be different.
As we move into & past our 4o's, our bodies ability to handle the rigors of training changes, pretty significantly.
In the past endurance athletes "just accepted their fate of going slower", and aimed to enjoy their sport "while they still can".
What a load of lies. 
With a carefully built strength training program and understanding how to modify your training sessions and frequency, you can (and should!) continue to see strength and speed gains well into your 60's. 
Will you win sprints against those in their 20's and 30's? No. 
Will you feel better and ride faster over mid- to long periods of time and have a great shot at seeing old PR's of longer durations fall?
You betcha. 
The 6-part, year round Stronger After 50  System is your secret turbo booster to help you improve your posture, climb faster, ride stronger, and just feel all around better- on and off your bike.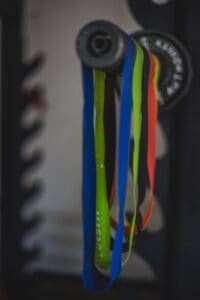 CORE Strength for Endurance Athletes
This is not your usual "Core training" program!
There are no crunches, situps, or long planks.
There is no focus on your stomach or midsection.
This is REAL CORE Training for better function and performances!
Over this 12 week program you'll be challenged to learn how to better create stiffness throughout your entire core (everything between your neck, elbows, and knees), while getting movement only from the hip and shoulder.
By mastering these skills you'll gain better:
Breathing
Strength
Posture
Balance & Stability
Power
All in 2-3 easy to do at home 25-40 minute workouts that will challenge you to re-think how you move, and what strength training really is.
If you're a cyclist or triathlete looking to take your strength training from basics to PERFORMANCE, this is the program for you.
This plan is available on TrainingPeaks.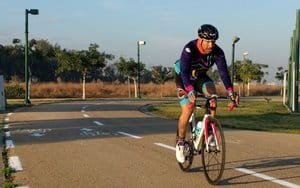 60 Day Movement Mastery for Cyclists
As cyclists we spend hundreds, if not thousands of hours a year on our bikes. Unfortunately, this leads to some muscles becoming short, while other stretch, and yet other muscles to get very strong leaving their counterparts on the other side of the joint (ahem hamstrings) in the dust.
This leads to many negative changes to our bodies over our riding season, and can leave us in pain or not feeling very good off the bike. From reaching for the coffee mug on the middle shelf causing shoulder pain, to not being able to go a few days without some kind of back ache or pain, our sport can lead us feeling beat up, rather than built up.
The HVTraining 60 Day Movement Mastery Program gives you a proven program to get out of pain, regain better function of your body, and be able to put out the same (or more) power on the bike, with far less effort.
Here is what some previous riders have had to say:
"The only way I can think to describe it, is that while I was climbing, I felt like I had this corset on, that was just giving me much more sustainable power as I went along….I finished the climb 40 second faster than usual, but with much less effort!"   
-Josh B., 46



"These workouts and movements were like nothing else I've ever done before. They looked simple, but when I went to watch the videos I took of myself doing them, I was so far off……After just 3 weeks of the program I was much more stable, able to balance much better, and my shoulder hasn't hurt when I wash my hair since week 2. I can't remember the last time it's felt this good!" 
 -John C., 57
12 WEEK STRENGTH TRAINING FOR CYCLING PERFORMANCE PROGRAM
This incredibly potent 12-week strength training for cycling program will help you tap in to the power that weight lifting for cyclists and triathletes can offer, all with HOME based workouts using just Kettlebells and bands. 
Each week you'll get a new "Exercise Focus" video, helping you ensure you're progressing each week, and getting exactly what you need to out of the program at that point.
This workout has been built to complete your strength training in 30-40 minutes a session, 2-3 sessions a week, allowing you to keep up your riding or triathlon training.
Better Back & Hips 8 week Program
Over my nearly 15 years working with cyclists & triathletes, by far the #1 issue has been lower back pain from riding. In fact, nearly 1 in 3 cyclists will suffer some kind of back or hip pain in their cycling career.
Having gone through my own debilitating hip injury that led to lower back pain and took my riding down to zero, I've spent over 10 years of researching & seeking out the top experts in the field to learn how to address back pain, and to get back to  living a healthy, pain free (and riding-filled) life. 
This 8 week program will help you get out of pain, learn how to use your core to protect your back, and produce more power, all while helping you feel and move better throughout your day.
**This program is not for everyone, and there is a screening process before you receive access**