While Barbells, Kettlebells, and Dumbbells should be the "main dish", a handful of machines can offer you some nice returns.
A few weeks back one of the previous interns here at HVT and I were having a conversation about "functional training", and what that term means.
If you go by what most people on the internet (and in-person trainers) have in mind, it will mean loads of body weight movements, barbells, dumbbells, kettlebells, bands, and some toys, such as medicine balls and sleds.
But when you talk to an experienced strength coach or fitness professional, "functional training" simply means helping that specific individual to be able to do what they need to do, better. 
And in that light, the world of "functional training" now opens up to include a broad number of exercise machines that many gyms spend tens of thousands of dollars to have.
As the Universe Would Have it...
A few days later I got an email from Selene Yeager asking if  I'd be interested in hanging out and talking about machines in the gym, and which ones may prove useful to cyclists.
It's always a lot of fun to talk to Selene, as she is a wealth of knowledge herself, and is (in my opinion) into cycling and strength training for all the right reasons:
To learn about herself and what she can accomplish
To connect with nature 
To hang out with other people who like these things as well
It was a great conversation which we both shared some funny stories and interesting pieces of our own training histories with each other, and the big pieces of which are now available for you and the entire cycling world to learn from in Selene's most recent article for Bicycling magazine (click to read):
Selene and I hung out twice (to date) on my Strong Savvy Cyclists & Triathlete Podcast, and covered quite a few really good, and interesting topics:
Take a listen, and be sure to give us a review and subscribe!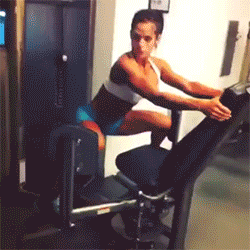 (Please do not do this).
Why Do These Machines Matter?
There is a time and a place when you both want, and need, to "hit the easy button" so that you can continue to be consistent and build to be a stronger, more well-rounded rider. . . mid-season tends to be one of those places. 
These machines are fun, easy, and relatively safe ways to dial down the mental energy needed to get a great workout in, thus helping you stay a little fresher and sharper through the rest of your day. 
While 2 of these machines may seem relatively useless and super specific to how they work and what they can do, they truly help you to balance out the highly repetitive nature of cycling: An important thing for any cyclists who wants to enjoy many hours and years to come, riding pain free. 
While many cyclists will flock to the the 3 machines they should really be avoiding, you can hop on the 5, relatively easy to use and highly rewarding ones to help keep you sharp and strong, without using up all your focus on keeping amazing technique.
Technique IS important here, but thanks to the setup of the machines, it takes a lot less brain power to hit the exercises exactly right so you can stay healthy, fit, and strong, on and off the bike.
If you'd like to learn all the skills and tools you need to become a pro in Strength Training for Cyclists, be sure to sign up for the Insiders List to get $200 off the Strength Training for Cyclists Certification Course when it opens here June 13-23, 2021.
Until next time, remember to train smarter, not harder, because it is all about you!